Inka Jungle Trail: best adventure tour in Cusco
Machu Picchu is a fifteenth century Incan city with spectacular, beautiful, and breath-taking scenery, one of the new Seven Wonders of the World. The ruins are situated in the region of Cusco at an altitude of 2,430 metres / 7,970 feet above sea level, and remain a shining symbol of Inca civilization and culture. Most archaeologists believe that Machu Picchu was built as an estate for the Inca emperor Pachacuti.

The Inka Jungle Tour is a trek which combines adventure sports such as mountain biking, rafting, ziplining and hiking over a 4 day route, ending at Machupicchu and Huaynapicchu.
The Inka Jungle Trek is the preferred tour for young people from all over the world who come to Cusco in search of adventure and extreme sports.  As a Tour Operator in Cusco we offer a specialized service, with an exclusive route, qualified guides (fluent in English, and with vast local knowledge), high quality downhill mountain bikes, and the safest options for rafting and ziplining.  We recommend our clients to reserve their tour in advance in order to confirm all their activities and avoid unnecessary risks such as unavailability of equipment, access to Machu Picchu, Huayna Picchu, or even worse be stranded in Aguas Calientes without a return train ticket.
INKA JUNGLE TRAIL ITINERARY:
The Inca Jungle tour starts with an early morning pick-up between 5:30 - 6:00am from your hotel or a central location for those staying outside the Historic Centre. Leaving Cusco, we go by private bus to the Sacred Valley of the Incas (Urubamba Valley) to the town of Ollantaytambo (arrival around 8:30 am). Here we will make a short stop where you can buy breakfast and any last-minute purchases such as ponchos, snacks, repellents, etc. We then continue by bus for the next hour and a half to the highest point of the tour – the mountain pass Abra Malaga (4,330 m above sea level).

In Abra Malaga we start the first part of our adventure – the biking tour! We provide all necessary equipment for the ride - helmet, vest, knee pads & high quality bikes needed for the descent. Once you are kitted up, we ride with the bikes approximately 2 and a half hours descending through the lower jungle to the town of Huamanmarca . On the way we will pass through canyons, ghost towns, orchards, and streams as the climate changes from snow-capped mountains to the warm, humid jungle, full of fruit trees and varied fauna and flora. Throughout the journey we are accompanied by our private transport which is will carry luggage and offers support in case of emergency. We will arrive in Huamanmarca approximately 1.30pm where, after a change of clothes and a brief rest, we will have a delicious buffet lunch in a local restaurant, enjoying the typical local dishes.

After lunch we travel by bus to the town of Santa Maria, where we begin a new adventure with those who reserved the rafting (additional cost of $30 USD).


The group who booked the rafting will be taken to the rafting camp near the Urubamba river, where they will receive detailed instructions for the activity and the safety equipment, including helmets and life jackets. In the raft you will accompanied by a guide, and a rescue boat will follow to supervise the adventure.

Depending on the season the river is between class III and III+ (medium risk) with exciting speed and some turbulence, but all controlled and supervised by experienced guides, certified in extreme sports, who have excellent knowledge of the geography, climate and local environment.

During the wet season (January to March) if the water is higher and the river becomes more dangerous with a class IV or higher, for security reasons we will have to cancel the rafting and refund your payment.

After the rafting adventure, to finish the afternoon the whole group will meet in the hostel where we will dinner and spend our first night surrounded by vegetation, accompanied by an orchestra of jungle sounds.
Meals: Lunch, Dinner
Accommodation: Local Hosting
Maximum altitude: 4,316 m.a.s.l.
Minimum altitude: 1,200 m.a.s.l.
Distance: approx 21 km
Optional: Rafting
DAY 2: INKA TRAIL TREKKING - HOT SPRINGS (Santa Maria - Santa Teresa)
We start the second day of our Inka Jungle Tour at 7:00 am with a delicious local breakfast and a nice cup of homegrown, homemade coffee in the middle of the jungle. We begin trekking around 8:00 am, and after approximately 30-40 minutes we join the original Inca Trail. Along the way you will witness the diverse flora and fauna of one of the richest biodiversity areas in the world. Fruit trees such as pineapple, papaya, banana grow around us, and different species of birds flutter around. After around 2.5 hours of walking, we arrive in Quellomayo village, where we will have lunch and take a rest in hammocks to prepare for the rest of the trip. After the break we continue trekking for around 3 hours, crossing farms, waterfalls and rivers (including one we cross in a cable car!). At around 4 pm we arrive at Cocalmayo - better known as the hot springs of Santa Teresa, where we will have the opportunity to take a relaxing, warm bath. Cocalmayo offers several relaxing hot springs, each with its own temperature.

After the break at the hot springs we continue walking for about 40 minutes until we reach the town of Santa Teresa where we will stay for a night. (There are taxis available for this last stretch if you prefer, not included). After dinner you will have free time to explore the town, or just relax and take a nap. Santa Teresa offers a variety of local pubs and discotheques where you can enjoy the nightlife, taste typical Peruvian beverages and meet the locals.
Meals: Breakfast, Lunch, Dinner
Accommodation: Local Hostel
Maximum altitude: 1,700 m.s.n.m.
Minimum altitude: 1,280 m.s.n.m.
Distance: approx. 12 km

Today we have breakfast again at 7am. After breakfast we continue exploring the routes followed by the first explorers who discovered Machu Picchu and other important archaeological sites. In Santa Teresa there is a zip line, and we split the group again into those who booked the zip line and those who chose trekking. The zip line group will be taken to the activity where they will spend around two hours zipping across the valley, enjoying spectacular scenery as they fly by. After the activity they will be taken by bus to the area known as 'the hydroelectric'.

The rest of the group will the trek for approx. 3 hours through the valley until reaching the hydroelectric, where the entire group will come together again to have lunch. After a break we continue walking along the railway, enjoying beautiful waterfalls, coca and coffee farms and much more. After 3 hours walking we arrive in Aguas Calientes, also called Machu Picchu Pueblo, around 4 pm. Here, in a hostel with hot water and wi-fi, we spend the third and final night

In the evening we all meet together for dinner in a local restaurant, followed by a briefing about the fourth day, and Machu Picchu. You will also have time to explore the town on your own. In Aguas Calientes there are more hot springs, so if you would like to rest in the warm water, you will have opportunity to visit them (additional)
Meals: Breakfast, Lunch, Dinner
Accommodation: Local Hostel in Aguas Calientes
Maximum altitude: 2,040 m.a.s.l.
Minimum altitude: 1,600 m.a.s.l.
Distance: approx. 16 km
Optional: zip line
Optional: hot springs in Aguas Calientes
The last day of the Inka Jungle tour will start around 4:00 am to make sure we arrive early to Machu Picchu, and have more time for exploration. First, we will hike through the high forest, climbing around 1500 stairs, to reach the entrance for 6am. After entering the complex our tour guide will lead you, for about 1.5 hours, through the spectacular ruins of Inca city. You will also have plenty of time to explore Machu Picchu on your own. After visiting Machu Picchu we take the train from Aguas Calientes to Ollantaytambo, where we will be picked up and transferred back to Cusco by bus. The journey ends in the Plaza de Armas in Cusco. Please note that you will be descending by yourself from Machu Picchu to the train station in Aguas Calientes, because some people will want to stay longer in the ruins, some shorter, and some will climb additional mountains, so will have a train at a different time.

Important!!! Remember that you have to be at the train station in Aguas Calientes at least 30 minutes before departure of your train. The standard departure time for the train from Aguas Calientes to Ollantaytambo is at 9:50 pm, unless you booked another option. Remember to leave Machu Picchu with enough time to get there 30 minutes before this time. Usually it takes around 2 hours to come back on foot from Machu Picchu to Aguas Calientes, but it depends on the person and their physical condition and may take longer. We will not be responsible if someone misses their train.

The travellers that booked hiking up Huayna Picchu or Alternative Mountain (Montana Vieja) will be able to start trekking after the guided tour of Machu Picchu. Note that it will take around 45 minutes to reach the top of Huayna Picchu. The path is very steep and narrow, but worth the extra effort, as the view from the top is absolutely breath-taking. Climbing Alternative Mountain (Montana Vieja) will take about 2 hours, but the route is not as steep as Huayna Picchu, although this mountain is higher. Remember that entrance tickets to Huayna Picchu and Alternative Mountain (Montana Vieja) are for a specific time, so be in front of the entrance gate on time, otherwise you will lose the opportunity to explore these additional mountains
Meals: Breakfast
Maximum altitude: 2,490 m.s.n.m.
Minimum altitude: 2,040 m.s.n.m.
Distance: approx. 1,5 km.
IMPORTANT NOTE: Some details of Inka Jungle Tour may change depends on the weather conditions, physical condition of the participants and other unpredictable things, like for example strikes, storms, slidelands, etc.
More info and details of the Inca Jungle Trail here
Alternative Adventure Tours to Machu Picchu
Best Packages To Enjoy Your Holiday In Cusco Region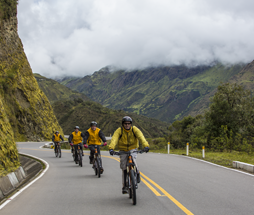 Inka Jungle + CHIMOMA tour (5 days)
Visit 7 cultural and adventurous attractions around Cusco! The first day is a tour to Chimoma - you are going to explore the ruins, platforms and textiles of Chinchero, the famous agricultural laboratory of Moray and finally the picturesque salt mines in the village of Maras.
The following four days the famous Inca Jungle adventure tour will take place! It includes adventure sports like cycling, canoeing, zipline and the visit to Machu Picchu Sanctuary!
You can find the detailed tour description here!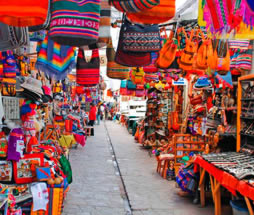 Sacred Valley + Machu Picchu (2 days)
If you do not have much time to visit Cusco this 2 day package gives you the opportunity to visit the archaeological attractions of Pisac, Ollantaytambo and finally Machu Picchu. We will pass through most towns that are part of the Inca Sacred Valley as Coya, Lamay, Calca and Urubamba.
In the afternoon we take the train to Aguas Calientes where we spend the night in a comfortable hotel. The next day we can enjoy the awaited day: Machu Picchu access.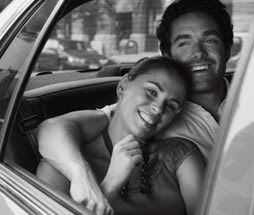 Do you prefer private tours?
Our private service allows you and your family enjoy personalized service which will have no time limit, a guide who will always meet your requirements, comfortable transport and a travel of your own rithm.
Please right to us the amount of days you are planning to stay in Cusco so we could organize a tour for you which would include a guide, accomodation and private transportation.